"How to Have a Stress Free Vacation"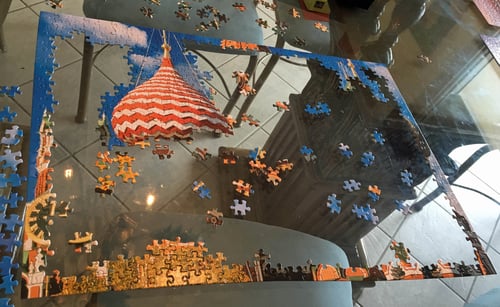 So, we work really hard, sometimes 9-12 months on creating the perfect vacation. It can be so easy, it begins with a "Discovery Call" where we talk about your hopes and dreams for your bucket list trip. If it sounds like something we can add value to and we both decide to work together. We begin brainstorming, putting all the little pieces together. One thing we hear quite often is, "Thank you so much, I would have never known how to put all of these trains, transfers, hotels, etc. and sometimes after hearing what their interests are, the puzzle may change completely. It's so much fun watching the joy in their faces when we meet to go over the visual of what this bucketlist would look like. I know we save our clients so much time, stress and energy doing what we do best, while they can go back to doing what they do best. But truthfully, the airlines hold that last piece to the puzzle. I can pretty much make sure everything is covered except the weather and the airlines.. . This became quite evident the last couple of weeks when airlines (all different airlines), cancelled flights days before travel and we were left scrambling.
On this particular trip, the day of departure they learned that their connecting flight in New York was delayed 1.5 hours so that in turn cancelled their connection in Rome to Naples because with that change by airlines it became an illegal connection in Rome. You may ask why was there such a tight connection in Rome - well airlines changed that after tickets was booked as well. If we had gone ahead with the airlines decision to put them on the next flight to Naples, they would have missed their lunch reservations and Pompeii tour. I knew how important this was to them and just could not give up. I convinced them to sleep on the plane I would take care of all the details & they would awake to a text of how to proceed. So while they were in route:

Plan B: I was praying the plane would make up the time in the air which usually happens and about midnight I would be able to switch the flight back to the earlier time.
Plan C: We hired a driver to be on standby to drive them to Pompeii in time for their tour;
One thing occurred to me while I was on hold for hours . . . what are the other travelers on that flight doing that didn't have a Travel Expert? Are you missing the last piece of the puzzle?

Thankfully, I was able to text them about 2 hours before they landed that they would be arriving at 8am and I was able to rebook them on original flight and VIP Meet & Greet in Rome would whisk them through passport control & to their connecting flight, easy peasy.
1) You know how crazy schedules are the day or two before you leave to go on vacation? Would your work schedule allow you to sit on hold for hours making alternate arrangements? OR
2) What if you didn't know YOU COULD make alternate plans? Many travelers just accept that they will be left in airports for hours and hours OR miss the connection and in turn tours lined up that day.

3) What if your flight is delayed and you miss your connecting flight? Where will you stay for the night? Will I lose that day at my resort? How will I beat the crowd to get on the next flight? (Sometimes, there is only one flight going to that destination per day per airline).
If I had a dollar for every time I am asked "Do people still use travel agents?" My response is all day, everyday (keep reading, I think you will be surprised at what a travel ADVISOR is). And the really well informed travelers are using a travel Advisor INSTEAD of a travel agent or online booking site which is actually a travel agent without the service.

If you have asked the question, "What can a travel expert do for me that I can't do for myself online?"
A quick example of what a travel expert would do: If your flight was delayed and your connecting flight would be missed, your travel expert could re book your flight before you landed saving you from standing in long lines of angry travelers at the ticket counter, book you in a hotel for the night* if no other flights for that day and make alternate arrangements at your original destination resort. Of course, no one wants to HAVE to be the hero in this story, but sometimes travel plans go awry despite the BEST laid plans. Travel Advisors frequently are holding extra pieces of the puzzle, just in case.. .
Travel Advisors take pride in offering incredible service and value for our clients hard-earned vacation time and budget. Service that begins with their dream and ends when they are unpacking after the trip. This goes WAY beyond clicking BUY NOW on a computer screen. Travel Advisors spend hours custom-crafting YOUR vacation to provide you with the EXPERIENCE you are dreaming of, collaborating with colleagues to check the best values, amenities. Travel Advisors don't "sell travel", we won't try to fit a square peg in a round hole . . . we research hotels, resorts, destinations with YOUR interests and hobbies in mind, if we have not visited the particular property or destination, we have long lists of vetted properties and excursions, in addition to being an engaged member of luxury consortia to obtain unbiased opinions (you can't exactly believe all opinions you read online).
ARE WE A GOOD FIT?
You may not need all the services we provide? We will let you know if you don't need our services. We will ask questions to find out what a perfect vacation looks like to you? WE CARE! If your anniversary dream includes relaxing at a kid-free pool cabana with an umbrella drink? I'm going to steer you towards an Adult-Only property with amazing service! Are you looking for a hopping, party atmosphere or some place to relax and disconnect? That may be yet a different resort or destination.

Are you dying to show your children the Caribbean, but you really want a resort that has a nice adult-only section to sneak away to while the children take advantage of sports clinics or learn to fly on a trapeze before you all meet up a few hours later for some quality family fun? I have the perfect place in mind to make everyone happy.
We can also provide benefits to the traveler that loves the challenge of researching travel and finds the exact hotel and excursions they want. That's when our inventory to properties that may show sold out online or our vetted suppliers come in handy. We may have amenities or upgrades at the resort you've chosen without the added cost. We may have a vetted supplier for excursion or a private tour excursion which provides a much more authentic experience than a big group tour.

WHY SO MANY QUESTIONS?
So these are why we ask so many questions, not to be nosy, we want you to have the best EXPERIENCE possible. We take all of your answers and put together the puzzle to match little dream in your head. It takes hours and hours of detailed research and planning to put each little piece together.
Many times, we have access to things that YOU may not be aware of. Would you like to visit the Sistine Chapel after hours? Would you like a photopher on location? Would you like a cooking lesson in the chef's home as opposed to cooking institution or restaurant? Would your kids love a truffle hunt? And much more, we can't reveal all of our secrets, right.
Will you really get what you think you're getting online? Buyer beware, last week a client sent me an email asking if I could get them a room for 4 at a specific price at a specific resort during Christmas holidays. Well, turns out I could get the room (which appeared sold out online), however the price shown online did not accommodate 4 people, the price for the room that would accommodate 4 people was significantly higher. Saving money is great, and I'm all for staying within budget and getting a good value for your hard-earned travel dollars. That is why we ask for your budget. I really do have your best interest in mind . . . trust me, I will do my best to find you the perfect fit for the greatest value.
Many think they are saving money "booking themselves", but what they may not realize is that the booking engine is a "large corporation travel agent", you will receive confirmation numbers and that is the end of that story, there is no service during and after the sale. AND if something is not as you perceived it to be, you probably won't receive a live person that sincerely cares about your time and money. When you give me or any other hard working travel professional, the "go ahead" to book that same vacation (often at the same price or better), most times, you are not paying in full on that day, you will receive first class service, well-organized travel documents, app with your day-to-day itinerary plans via mobile phone, destination information, restaurant recommendations and sightseeing recommendations, along with the peace of mind that we are available for you each step of the way. If anything goes wrong on the trip, we typically have affiliates on-location and/or good working relationships with the hotels, resorts, cruise lines. We sincerely advocate FOR YOU. Just ask yourself or the agent you are working with, what is included in the sale.

And lastly, Insure your vacation
Your travel advisor can help you choose the best policy for YOU. One of the greatest surprises why you may want travel insurance is not just for trip cancellation. Some countries are beginning to require travel insurance before they allow entry into their country. We encourage you to purchase third party insurance, we almost never recommend purchasing the supplier insurance, we want someone that is looking out for you, not the supplier.
So I hope I've put all the pieces together for you on when to use a travel advisor and hope we can help you again in the future.
Click here MORE BLOG STORIES for more inspiration and ideas for a travel inspired life