Last month I was able to experience my mom and business partner's happy place that reignited such a passion for travel in her. The one and only ITALY. Though Italy is such a vast and diverse destination, a piece of my heart will always be left in Venice. This is the first excerpt of a 3 part email series detailing my time in this magical world across the Atlantic. I spent 4 days getting lost in Venice (which is very easy to do) which is another thing that I believe gives this quaint city a charm about itself. The first day I just explored the main sites- Rialto Bridge, St. Marks Basilica, Doges Palace, and the winding canals ending the day with a cichetti crawl with our very own local friend. Cinzia is very passionate about her home and she took us to some of her favorite spots to enjoy lite bites and an Aperol Spritz (venetian favorite). I hope I get to introduce her to you!!
The second day was one of my favorites! We spent the morning wandering the less touristy parts of Venice and were invited into a local's (Lucia) home for an authentic venetian lunch (TONS OF FOOD ). During lunch we were surprised with one of Lucia's friends who is a poet. He asked us each to come up with a wordand he made it into a poem. My word was Love and my poem was "Justin that owns in his eyes, the deep sweetness of a child, a happy & thoughtful child" Italians like to call it a "light" lunch, but it was at least 4 courses. Seared salmon on bread, buffalo mozzarella, 2 types of pasta, and entree was a grilled sea bass (AMAZING). We had the afternoon/evening on our own to explore a bit more. That night we had a private behind the scenes tour of St. Marks Basilica (amazing after all the tourists leave). We walked in and took a seat in complete darkness when all of a sudden the gold inlayed mosaics started to light up with splendor. It was truly a magical experience. After the light show we toured the basilica and the below with a local guide.
The third day we embarked on a traditional venetian boat to explore the Venetians lagoons. We wound through Murano made famous by the glass blowing. Circled around Burano, known for its lace making, which is a photographers dream with its brightly colored building and picturesque canals.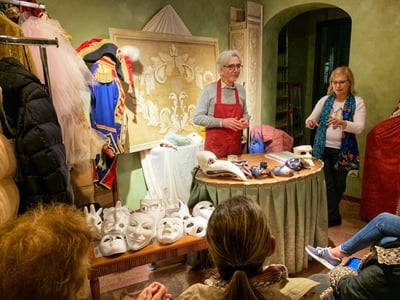 We stopped on the island of Torcello, which was the first of the islands to be inhabited in 452 AD, for lunch. It was another delicious 4 course meal. After lunch we made our way back into the city. On our way back to the hotel we enjoyed a private chocolate tasting with a local chef that makes her own special tiramisu (DELICIOUS). After our calorie intake was met we continued on to a traditional Carnival mask workshop. The master artisan demonstrated 3 different techniques and explained what certain types of masks meant and how it all came to be. It was extremely interesting. After we toured his shop, a few of us left with our very own masks.
On our last day we left the hotel early for a photography tour, stopping at a traditional oar maker's shop, and exploring the Jewish ghetto. Enjoying the wonder of strolling Venice's scenic streets and back canals. Soaking in all that this magical city has to offer and getting one last look before continuing south to Florence to continue our Italian Adventure.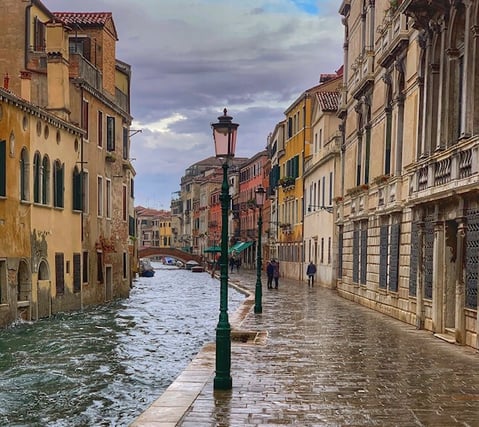 When you feel like it's a dream come true, it just keeps getting better!
The most important thing is to enjoy your Italy vacation. Be a a
traveler, not a tourist.
Sharpen your photography skills so you can capture "a snapshot in time" to remember the experience and preserve the memories forever as you explore Venice, the city on water. Looking at my photos BRINGS ME BACK and its always such a beautiful memory!
I truly hope you get to go to Venice. If this sounds like the kind of ITALY trip you would enjoy, call me, I would LOVE to help you plan the perfect Trip of a Lifetime! Please tag us when you show off your Venice Travel Adventure @VIPTravelExperience! (P.S. don't get too caught up in the photos that you MISS the moment).