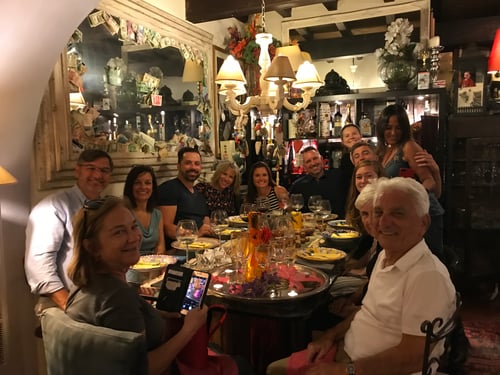 It has been a FUN, crazy busy summer, we have clients and friends traveling to France, Italy, Ireland, England, Scotland, New England, Jamaica, St. Lucia, Canada, Turks & Caicos, Alaska, Cabo, Bora Bora , Costa Rica and I'm probably forgetting a few. Yes, it has been busy, but so rewarding!!! Busy as it is, it is one of the most fun times of the year... the trips Justin & I have been working on for months, sometimes a year are finally happening and I wake up to see beautiful photos, texts and facebook posts. I feel like it's Christmas every morning.
I came across the photo above and I remembered this awesome text:
"So today was so perfect, it was ridiculous !" I had to giggle because I knew the next few days would be even MORE perfect.
Fast forward next day, I get this text:
"WOW-Dinner tonight- Holy Cow-- Insert- HUGE SMILE - my heart is so happy!"
I figure a picture is worth a thousand words. How happy do these folks look? Would you believe they are in Rome? Would you believe they are dining in the home of a local chef that invites her family over to socialize as she creates a beautiful meal which is amazing in every way, but what you walk away with is ... The AUTHENTIC experience, breaking bread with some Italians that are now your friends!!
Period, enough said. Do you want to JUST check off a box or take selfies to say "Been there, done that"? OR would you like to EXPERIENCE the places, the food, the people? I can help you travel either way, but I don't miss an opportunity to turn a big vacation into a once-in-lifetime experience. If you or someone you know wants to REALLY experience your next destination, I hope you will share my email or my contact information.
I hope tomorrow is so perfect for you, that it's ridiculous!!!
Click here MORE BLOG STORIES for more inspiration and ideas for a travel inspired life