ITALY


What to see AFTER your first visit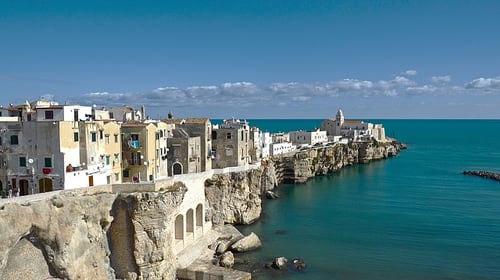 The key to visiting a city, no matter where it's located, is to visit with a local and not JUST a tour guide. You MUST have a tour guide who is passionate about sharing their unique stories and activities and who is in contact with local realities and artisans. You will be AMAZED at how much more personal your experience will feel when guided by a person who is thoroughly connected to a city - 360 degrees from every angle.
Italy is a lot more than Rome and Tuscany. From the Hills of Langhe to the trulli of Puglia, going through the culinary haven of Romagna, you will find fewer tourists and wonderful land to discover.
Puglia (above)
Summer dreaming . . .
walking along the seafront in Otranto, breathing the salty breeze, watching a sailboat bobble in the bright blue bay,
you may catch yourself thinking "NOW this is the real Italy!"
This little travel secret is being discovered more, but you still won't find hordes of tourists here. This is Southern Italy, minus the masses. Puglia brims with pristine cove, sandy beaches and charming villages
.
Wait, did we mention the FOOD of SOUTHERN Italy . . . wide variety of seafood, fresh tasty vegetables, rich olive oil, and of course, basil and oregano. The best Italian olives come from this region and are often marinated in garlic oil with crushed chili.
What do you think of NO LINES, NO HASSLE, NO CROWDS.
Just sun and sea and genuine Italian hospitality.



With over 11,000 years of history, Basilicata spans a total of 3,860 square miles, located at the "insole" of Italy's boot between Puglia to the east Campania to the west, and Calabria to the south.
The region's history of poverty contributed to its unique cuisine which is gaining significant recognition in the last several years. Artisan Luganega sausages, fresh pasta made from water, salt and flour (omitting the usual eggs present in the rest of Italy's pasta), and abundant use of seasonal vegetables and legumes are prominent in the cuisine allowing it to highlight local flavors.

Sassi di Matera is
one of most highly visited UNESCO World Heritage Sites visited in the region. It is a city of caves and was used as the backdrop location for Mel Gibson's movie, "The Passion of Christ". Moving along to the area of

Vulture Melfese...

is drawing wine enthusiasts showcasing its high-quality red, Aglianico, while the small town of Bernaida, the former home of Francis Ford Coppola's grandfather and current location of his newly-opened Villa offers another great experience. And n
atural Beauty lovers are enamored with the miles of coastline and national parks in Maratea watched over by the2nd largest statue of Christ in the world. Last but not least, Pollino offers travelers a bit of everything, a national park, prehistoric cave drawings and burial sites and unique vacation spots such as the thermal springs in Latronico.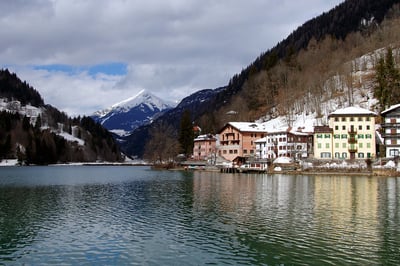 VENETO



Venice will tug at your heartstrings, but stay awhile, there is more to Veneto than Venice.
I had the pleasure of taking an authentic journey to the Veneto Region - beyond Venice last year hosted by my Italy partners that I love so much. I can barely remember the names of all of the towns visited, but I was WOWED by it's rich artistic, historic and culinary heritage, not to mention the beautiful Italians that greeted us at each town. We stayed in a variety of places ... hotels at city-center hotels, a Castle, a Relais, Villas. And the regional cuisine in each town was more than a meal but a true EXPERIENCE. We also were invited inside residences for a private viewing of amazing art, surprised by an opera singer in our villa, toured olive oil farms, wineries and watched the cheese-making process.



Stay tuned for a more in depth view of our times visiting Padua, Volpolicella, Verona, Lake Garda, Vicenza, Bassano del Grappa, Asolo and Treviso.
Savoring Sicily
Enjoy an intimate voyage through Sicily, the largest island in the Mediterranean. Sicily boats stunning seascapes, historic towns and charming countryside. Fed by rich volcanic soil, Sicily also produces some of Italy's finest wines. A journey through Sicily includes authentic food, private guides and behind-the-scenes access to Sicily local traditions and people.
Sardinia
When you opt for a private tour, we can give you a real cultural immersion. We hand pick local guides are born and raised in the destination
. You will discover some amazing, but virtually unknown, places that would be hard to find on your own. It is something you will remember when you buy tortellini from a local shop, but it's another thing altogether when you discover the best tortellini you've ever tasted and buy it from a little shop, which the locals go, just around the corner from the one where all the tourist stop. THIS is something you will not only remember but will share with your friends and family for years to come because it is a personal connection you've made with ITALY!

Which ever your style, we hope you will TRAVEL far and wide and explore this beautiful WORLD!!
Email me tammy@viptravelexperience.com, I would love to help you plan your vacation to ANYWHERE! Together we can create the best vacation experience for YOU. It's a big world out there -- we hope you EXPERIENCE it.