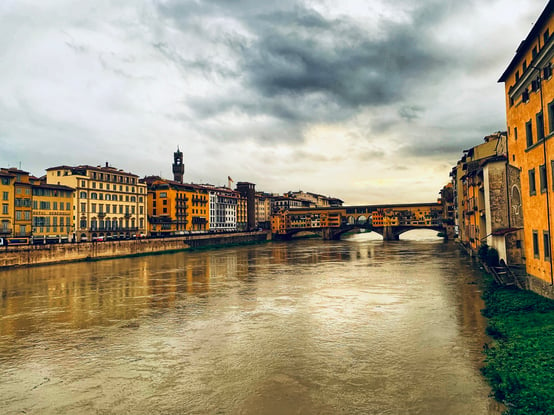 Italy Trip: Part 2
I boarded a morning train ride in First Class Venice to Florence. It was only about 2 and a half hours where they served beverages and snacks. Upon arrival we were picked up by private transfer and checked into our hotel in a perfect city center location.
After dropping off our luggage and freshening up a bit we were brought to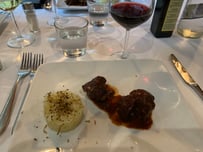 a private cellar lunch with local tuscan delicacies. I had a delicious glass of Tuscan red to start off with the duck confit crostini. The next course was short ribs that was marinated in red wine for 24 hrs- DELICIOUS!
We finished with a pistachio truffle gelato with chocolate. After lunch we joined our local guide
Francesca (AMAZING) for a Private Florentine Artisans tour. We were taken on a behind-the-scenes tour observing local artisans of the leather school, met a goldsmith in a Florentine mosaic workshop, and ended the tour in a jeweler's workshop. We wrapped up the night at a trattoria near our hotel for MORE WINE and lite bites.
My second day in Florence I woke up before dawn for a 15 minute trek to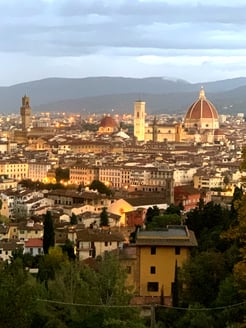 the Piazzale Michelangelo crossing the famed Ponte Vecchio Bridge to see the AMAZING sunrise over the city. A magical view-DEFINITELY recommended for early risers. After breakfast, we met Francesca again in the hotel lobby and went to visit the Accademia Gallery to see the Statue of David. WOW, he was much bigger than I expected. We were amazed at St. Johns Baptistry doors and went inside to get a closer look of the bible stories on the ceiling mosaics. After visiting the Baptistry we visited the Duomo to see the inside of this magnificent structure, and had the opportunity to climb to the top of the dome for a panoramic view of the city.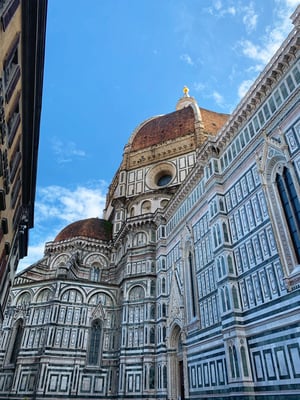 I lunched at this amazing little pizza joint right near the hotel, the margherita pizza was so good that I ate the whole thing by myself . I spent the rest of the afternoon just walking around this beautiful renaissance city exploring on my own. Later that evening we attended a cooking class in a locals house where we learned how to prepare gnocchi and were introduced to their typical ingredients & spices used on a daily basis. AMAZING EXPERIENCE- but I am a very picky eater and I don't like potatoes so I didn't eat much.
Waking up my last morning in Florence I had breakfast in the hotel before checking out and meeting our private driver in the lobby. We stopped in the small town of Orvieto at a beautiful vineyard and bed & breakfast, Locanda Palazzone, for a tour of the vineyard and wine tasting paired with lite bites. We sampled 2 whites and 3 reds along with a bean stew, fish, and duck confit crostini. All of the wines were delicious and I brought back 6 bottles (2 whites & 4 reds). We walked around the vineyard enjoying the views and we were on the road again rolling on to Rome!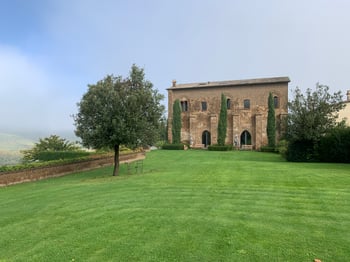 When you feel like it's a dream come true, it just keeps getting better!
The most important thing is to enjoy your Italy vacation. Be a traveler, not a tourist. Sharpen your photography skills so you can capture "a snapshot in time" , remember the experience and preserve the memories forever as you explore.
Florence was an amazing city. Looking at my photos BRINGS ME BACK and its always such a beautiful memory! I truly hope you get to go to Italy. Call me, I would LOVE to help you plan the perfect Trip of a Lifetime! Please tag us when you show off your Venice Travel Adventure @VIPTravelExperience! (P.S. don't get too caught up in the photos that you MISS the moment).