Australia is Amazing & Thriving
Thursday, February 13th I packed up my bags and was chauffeured to the airport by dear old mom for an adventure I will not soon forget. I was spoiled by American Airlines with roundtrip Business Class airfare to LAX which included priority check in. That along with my CLEAR membership and TSA Pre-check it took a total of 12 minutes from getting out of the car to sitting down at my gate. I am loving the new terminal in New Orleans.
Arriving in LAX we were allowed entry into the American Airlines Flagship Business Lounge which was a treat in itself. It was adorned with modern decor, amazing food, and premium liquors. For a longer layover this was just what I needed to sit and relax before my long haul flight to Sydney, Australia. As if this wasn't enough of a treat when I boarded the flight to experience the AA Flagship Business Class with fully reclining seats I WAS IN HEAVEN for my 14 hour flight! It truly flew by and I landed feeling like I had a full night's sleep and ready to take on the day.
Day 1, Settling into Sydney, we were whisked to the Hyatt Regency Sydney in a private luxury van. After checking in to our rooms and dropping off our bags we hit the ground running boarding a luxurious yacht for a cruise around the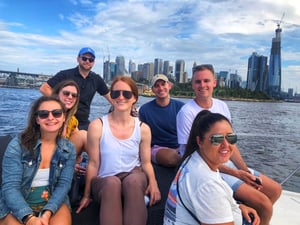 Harbor enjoying Sydney's famous sights from the water. Our first stop was Doyle's at Watson's Bay for a quick appetizer which was absolutely delicious. After a few drinks and some fresh calamari we embarked on our journey to Balmoral Beach for our main course. After some wine and some delicious grub we boarded the ship and made our journey back to the wharf. We had a couple hours to relax and unpack before our own private 6 course dining experience hosted by the Hotel Manager and executive chef. The food was to die for. My favorite part of the meal was the wagyu beef cooked to perfection ...it melted in my mouth. Having eaten my entire body weight in delicious food today I decided to call it an early night before an early morning of adventure.
Day 2, Sydney Harbor Highlights, we woke up at the crack of dawn to get our own private Backstage Tour of the Sydney Opera House. This was one of the coolest tours I have ever been on. We explored the hallowed theatres and foyers where more than 1600 concerts, operas, dramas and ballets take place each year and our experienced guide lead us through every aspect of the building's 14-year creation and 58-year history. Running our hands over the world-famous shell tiles, taking a seat in the elegant custom-made white birch timber chairs and marvel at the vaulted ceilings of one of the biggest pillar-free chambers in the world.